Taohuayuan (the Peach Blossom Land) Scenic Area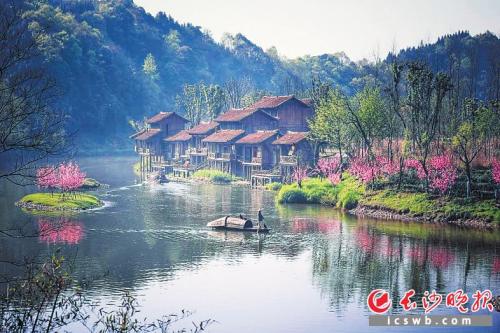 File photo/icswb.com
Taohuayuan, the fairyland on earth described in Tao Yuanming's "Accounts of Taohuayuan" is well known to the world. Being an extraordinary geographical location, it is adjacent to Wuling on the south and Yuanjiang River on the north. Taohuayuan, a national AAAA scenic spot, is 15 kilometers southwest of Taoyuan County and famous for the great prose entitled "Peach Blossom Spring" by the great poet Tao Yuanming (365AD-427AD). Extending from the spring is the extraordinary landscape where the grandeur of Mount Wuling, the quiet cave and valleys, the rolling water of Dongting Lake and the grace of mountains and rivers in Hunan are well-blended, presenting people with the fascinating Peach Blossom Land, a land which is also one of the four Taoism holy places; and it is called the No.42 Blessing Land.
Taohuayuan Scenic Area is composed of four scenic parts Taoyuan Hill, Taohua Hill, Qinren Village and Taoxian Range with varied scenes respectively. Dotted in the area are many stone tablets inscribed with poems, precious cultural relics and ancient buildings. "Fishing Village at Sunset" in the area is one of the "Eight Grand Sights in Hunan". In March when peach trees bloom, the place looks like a fairyland.
Besides Taohuayuan Scenic Area, Liuye Lake and Changde Poem Wall are worthy of visiting in Changde.
Liuye Lake
Photo/lyhtour.com
To the northeast of the ancient city of Changde is Liuye Lake in the shape of a willow leaf. This area is ideal for recreation, convalescence and aquatic sports. Within the resort there are White Crane Hill, Flower Hill, and Sun Hill, all are covered with pine and fir trees, and Islets in the lake shimmering like emeralds in blue water. Also, Yinyuan Garden, Wujianping Terrace and Mount Zhangjia, a graveyard since the Warring States Period, add rich cultural atmosphere to the natural scenery.
Changde Poem Wall
Changde Poem Wall is a 3 kilometer-long anti-flood dyke alongside the Yuanjiang River, which is engraved with poems, handwriting and painting and thus is listed as the longest wall with engraved arts in Guinness Record.
There are art works from many famous Chinese artists and outstanding figures like Mao Zedong, Qi Baishi and so on.
Chinese source: hunan.gov.cn