Huping Mountain (Kettle-shaped Mountain), Roof of Hunan, located in Shimen County, is the state-listed nature reserve as well as one of the 200 global key ecological areas. It is also famous as a natural labyrinth of Global Fantastic Circle and a species gene bank in Central China.
Huping Mountain National Level Protection Area covers an area of 45,000 hectares. The whole natural protection area covers an area of 665.7 square kilometers.350 million years ago.
Huping Mountain with perilous peaks and deep valleys embodies 266 peaks at an altitude of over 1,000 meters and a major lofty peak, 2,098.7 meters above sea level, which is the highest peak of Hunan. It boasts the deepest, narrowest and grandest gorge in Mid-east area. The gorge, over 200 kilometers in length, with a relative height of peaks and valleys varying from 800 meters to 1000 meters, exposes a great deal of typical annual sections, including the largest Cambrian Stratum section in the world. Huping Mountain has plenty of waterfalls, water-eroded caves, streams in the crisscross network. The largest Huping Waterfall is 400 meters in height and 20 meters in width. Once Libai(a great poet of Tang Dynasty) traveled here and made a comment that waterfalls splash in Huping, peach flower falls down the mouth of cave. Rafting in Huping Mountain, which has more than 80 dangerous shoals up to 22 kilometers in length and a waterdrop in level of over 90 meters, is characterized by "the whirling rapid flow".
The area from Nishi Town to Dingping Mountain with an altitude of 1870 meters, is the best place for eco-tour.
As not affected by the fourth glacier, Huping Mountain remains a favorable natural environment and a mass of rare plants. It is regarded as "the gene pool of central China" by experts at home and abroad. In Hupingshan there are 172 kinds of terrestrial vertebrates , 53 of which are rare and endangered animals such as the South China tiger, leopard, black bear, monkey, serow, golden eagle, red-bellied Tragopan, short mouth swiftlets, giant salamander, etc. So it is also confirmed to be one of the 200 global key eco-areas by International Nature Fund and two other international organizations.
Attractions:
To watch the seasons change in a place with every natural beauty - mountain peaks, rivers, flowers and forests, Huping Mountain in Central China's Hunan Province is your best choice.
The mountain is the highest peak in the province at 2,098-metres. But climbing to the very top of the mountain is beyond most visitors and is usually left to more skilled and fit climbers.
However, they are rewarded for their efforts by the panoramic views available from the mountain peak and the fact that they have to share the place with fewer tourists.
Flying waterfalls
File photo/tour.rednet.cn
The mountain's biggest waterfall is the next attraction. It has been praised for its beauty and power for centuries. The renowned poet Li Bai of the Tang Dynasty (AD 618-907) wrote a famous poem about it.
But when visitors walk into the Bizigou, they will be surprised to find many other waterfalls dropping gracefully into the narrow valley. In one section, there are dozens of waterfalls of different sizes falling in plumes of white foaming thunder onto huge boulders on the floor of the valley.
Most of the more spectacular waterfalls have their own names such as Beauty Waterfall, where several beauties were said to have been seen bathing in ancient times.
Another is named Tongziniao (Boy's wee-wee) Waterfall because it looks like a little boy doing weewee from the mountain.
Bathed in the moisture provided by the waterfalls, the trees and grasses are greener and more fresh than visitors are used to.
Steep valleys
To view more beautiful waterfalls, travellers must pass through some narrower valleys. Dozens of rivers and waterfalls that have been flowing for hundreds of thousands of years have carved out these deep and sheer valleys.
High trees shelter the valleys and even on sunny days, the light in some of the valleys is a little dim.
In some valleys with their steep sides more than 800 metres high, it can be a little frightening, as if the waterfall roaring down could swallow its visitors.
Care should be taken when climbing in some valleys because they can narrow quite sharply and it can be difficult to pass.
Valleys such as Jinjiahe Valley, Xianglianhe Valley and Huanglianhe Valley with different but beautiful views are all worth visiting.
Some peaks in the surrounding mountains look strange. After many thousands of years of wind and rain, some strange-looking stone bridges, caves and cracks have been created by Mother Nature.
Mount in sunset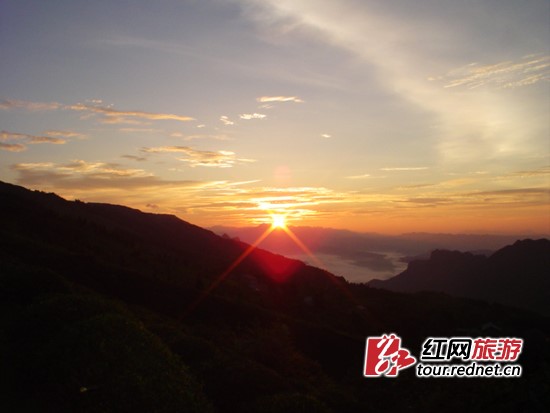 File photo/tour.rednet.cn
The region is also famous for its colourful sunsets.
More than 6,500 kinds of flora and fauna live and grow around Huping Mountain.
Wenfeng Peak stands lonely against the sky to the north of Huping Mountain. It looks like a bamboo shoot from the southwest. But if you stand to the northwest of the peak, it looks like a pile of donkey manure and its original name was "Donkey Shit Peak".
The poet Li Bai, mentioned above, thought the name was not elegant so he changed it to Wenfeng Peak.
Farmers have tamed the wild mountain with terrace fields and it now has layers of green growth in the spring and summer, while in the autumn, it looks golden.
Name: Huping Mountian
City: Changde City
Address: Shimen County of Changde City, Hunan Province
Hours:7:00-18:00
Tel: (86) 736-5334190
Address: Shimen County of Changde City
Admission: CNY 50
Transportation:
There are long-distance buses to Shimen County in Changsha Western Station, which starts at 8:50,9:20, 10:30, 12:50 ,14:20,15:00 15:30,20:00 or 22:20. There are trains going to Shimen county at the Changsha Railway Station.The detailed information is listed in the table below.
Trains schedule
| | | | | |
| --- | --- | --- | --- | --- |
| Number | Price | Length of Trip | Departure Time | Arrival Time |
| K533/536 | ¥44,95,136 | 3.5 hours | 02:39 | 06:08 |
| K9072/9073 | ¥71,138,206 | 4 hours | 04:08 | 08:15 |
| K1373/K1376 | ¥44,90,109,136 | 4 hours | 08:05 | 12:12 |
| K8308/8309 | ¥44 | 3.66hours | 08:29 | 11:43 |
In Shimen Western Station, the Buses driving to Jiangping and Nanping can bring you to Huping Mountain.