Photo Exhibition
China Telecom Hunan Branch Presents 10 Info Projects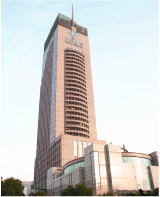 2009 Working Conference of China Telecom Hunan Branch has revealed that the company is set to boost the construction of ten info projects including mobile e-government affairs, Chang-Zhu-Tan city cluster info integration, informationization in rural and urban areas, informationization in the fields of science & education, enterprises, health & medical care, tourism industry, safe and sound experience in Hunan and e-commerce to spur the info development in Hunan province. Vice provincial governor Chen Zaoxiong attended the meeting.
The Significance of the Chang-Zhu-Tan Communication Integration
Since June 28 this year, Changsha, Zhuzhou and Xiangtan have taken the lead in China in terms of realizing communication integration and upgrades. The Chang-Zhu-Tan communication integration constitutes a complicated systematic project and a livelihoods project benefiting the people. It is also a pilot project for speeding and boosting
the "two-oriented society" construction of the Chang-Zhu-Tan city cluster. This move is bound to be a new start for Hunan to further increase infrastructure construction, speed up the reform and opening, and achieve a fast and sound development ...
News Report
The Hunan provincial branch of China Telecommunications Corporation Ltd (China Telecom for short) is the largest basic network operator and integrated information service provider in Hunan. It is also the only telecommunication operation enterprise which has all of the following: a fixed-line network, a mobile network, a digital network and a data network. There are 14 municipality-level and 93 county-level subsidiaries under the jurisdiction of Hunan's China Telecom branch, with the service network covering every corner of the cities and countryside in Hunan.

China Telecom's Hunan Branch provides customers with rich and varied information and communication services with quality and efficiency, including ...
Hunan Provincial People's Government and China Telecom Signed a strategic cooperation agreement on the 'Ten Informationization Projects of Hunan Province' in Beijing on the afternoon of March 11. The two parties will establish all-round strategic cooperation in a wide range of fields including information integration of the Chang-Zhu-Tan city cluster, informationization in rural and urban areas, e-government, e-business, as well as such fields as science and technology, education, culture and health. Yu Laishan, executive vice governor of Hunan Province ...
E-mail:enghunan@hunan.gov.cn
All Rights Reserved.