First and foremost, my earnest gratitude and appreciation go to the responsible authority (Hunan Provincial Tourism Bureau, the Official Web Portal of Hunan Government), for this unique initiative and the
organizers for their tireless efforts and prompt responses to queries even during the build-up to the trip and within its commencement.

Due appreciation also ought to be conveyed to the respective personnel that accompanied us during this trip. Their patience, tolerance, humility and understanding are deeply appreciated. Their knowledge and experience was evident and so was their passion in ensuring that visitors like us, do experience and enjoy the vast tangible and intangible cultural and natural resources that the area has to offer. Such initiatives are viable platforms for both promotional and marketing. This is by allowing guests to experience and appreciate the dynamic products and services offered, and gathering their feedback during and after the trip.

For me, the excitement began from the very moment I received confirmation from the organizers. Being a third year student in
Hunan University, I have heard so much about Fenghuang and it has been one of my personal desires to visit it prior to returning home next year. So one can only imagine my excitement when this opportunity came about.

We left Hunan University on Saturday (21st December) at around 8 am, a misty yet calm morning for ten excited foreigners.
Along the way, we were served lunch at an exotic eatery that was boarded by dense and untouched forest cover.

Though it was quite a journey, having to be welcomed with such amazing landscape, natural resources and infrastructure; was indeed worth it all. Oh, and the simplicity in the people's lifestyle and attitude is something that just captivated my heart and mind. They lived each day as it unfolded and did so from what their environment (surroundings) provided. We straight away checked into our hotel upon arrival before our sight-seeing tour commenced.

Being home to a minority group of people, the state of infrastructure may not be too glamorous yet its setting portrays the ancient architecture and their means of survival. Though business was a bit slow, it continued as usual and it was encouraging to note that majority of shops remained opened though it was off-peak season. The area
also showcased two extreme forms of life i.e. the old and new town hence one can clearly see the demarcation in phases of development and the transition in their way of living.

For a small area, it was interesting to note that it offered different types of hotels, bars, restaurants, souvenir shops and a variety of attractions. Accessibility in the area is mainly in the form of walking along the river forefront, boat ride along the clam river or crossing bridges and yeah, we got to experience walking on a hanging bridge on the evening of
For me, the ten minutes boat ride was just overwhelming, as we got to view the ancient structures up-close. The street walk was just an amazing experience as well; as we observed the variety of authentic hand-made cultural/traditional products

(souvenirs) they showcased and tasted their local cuisine. It was just a remarkable experience and a rewarding one; an opportunity wee earnestly appreciated.
We were again treated with a great traditional dinner before we were hosted to a breath-taking and mind-blowing traditional entertainment. Mind you, the live show clearly depicted the people's cultural identity and belief via a variety of dances, songs and drama. It was definitely the highlight of the evening and a great conclusion to a fun-filled and thought-provoking day.

We returned to our hotel at around 10pm and retired for the day…..Oh how I envy those having such simple and satisfying lifestyle….
will visit a bit later. This encompasses of the hosts greeting us with love songs and expecting guests to respond with the same. In preparation for this, we were taught a song which definitely kicked-start our morning on an energetic and exciting mode.

Upon arrival at the town, we sighted monuments depicting the dynamic phases of leadership and development from the early years of rulership, as basis of the current structure.

The town houses monuments of ancient cities, homes and even the hierarchy of leadership within the community. There were displays of how decisions are made according to as determined by power (authority). Diverse unique traditional artifacts were showcased in the
We began our day with a hearty breakfast at 7.30am before departing for the reputable Qianzhou town. On the way, we were informed of the welcoming tradition of the people of Dehang, where we
proximity of the town. They hold significant story about the people and their culture, from the past to the present. Our attention was once gain captivated by the sacred statue of the reputable Chinese teacher, editor, politician, and philosopher of the Spring and Autumn period (Confucius), whose philosophy emphasized personal and governmental morality, correctness of social relationships and justice.
As a bonus, we were once again treated to a spectacular cultural show performed by the elders of the community. Such amazing talent utilized to communicate history, culture and belief of the people.

The next site was equally exciting but from a totally different spectrum. Oh what a magnificent structure. I finally got to physically see the much talked about Aizhai Bridge. For me, the twenty minutes for taking pictures and just to gaze upon such structure, was worth every minute. Such overwhelming emotion cannot be over-emphasized just trying to comprehend how it came to fruition. Things that came to my mind included the laborers, capital, and finance etc, associated with such amazing display.

It holds such crucial status as the sixth highest and the twelfth longest suspension bridge in the world.

It was after witnessing such view that we proceeded to the much
anticipated Dehang village; home to the Miao ethnic group. Upon arrival, we were greeted by beautiful young women dressed in such colorful traditional attire and with jovial tones singing, beautiful love songs as tradition for welcoming guests to their turf.
In exchange, we as guests also sang songs in appreciation of such warm welcome. We were then directed to their traditional dining area where more surprises awaited.

As their tradition, we were first served with rice soup & rice wine before we were fed with a feast comprising of a large variety of fresh meat and vegetables. Lo and behold, if only such rare opportunities came by more often……..indeed an opportunity of a life time.
outlets and small-to-medium sized eateries, selling local cuisine and healthy snacks from natural fruit extracts.

Approximately twenty five minutes later, we were ushered to a pavilion-looking display area for again, a heart-melting and breath-taking cultural display. It was such a graceful display by the young girls and captivating entertainment by the young boys. Whoever said that life is only found in the big city has definitely not seen nor experienced what I did…..truly fascinating.
After lunch, it was time to grace the village boundary witnessing such unique home setting, their way of living where everyone played a part; and even those selling by the roadside capitalizing from the abundant resource around them. There were also a few souvenir
It was after such an overwhelming exotic presentation that we progressed to Furong Town; our final destination.

We arrived at Furong Ancient town as it was approaching evening and given our comprehensive schedule of the day, evening was just anticipating to hit dreamland so as to gather enough energy for our final day, but only after tucking into a well prepared hot meal.

Oh what a day it has been, filled with great excitement, fun, and definitely learning experiences.
that welcomed us.

Mysteriously and gracefully boarded by untouched forest cover of various flora species, lay spectacular branches of the famous Wangcun waterfall. The view was complemented by the majestic ancient homes of the King comprising of his personal mansion and homes of his wife, concubines and his children. What a captivating sight indeed. The mansions and administrative buildings and homes, formed a castle like formation providing royal impression.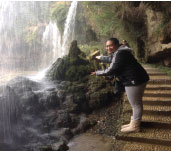 Our final day began early that Monday morning with a quick light breakfast provided by the hotel we were being accommodated at. At 8am, our journey on foot into this reputable town commenced. The day was just perfect for such exciting activity and this was even made better with the amazing view
The fresh breeze and energy stirred by the branches of the waterfall was just overwhelming. A sight that is indeed indescribable and purely irresistible Similar to the two(2) communities visited, the Furong people proudly showcase their culture and tradition through their local cuisine; mainly dried seafood (fish, shrimp) as well as the famous rice tofu, and their colorful artifacts which is carefully crafted as souvenirs that portrays the belief, lifestyle and tradition of the community. How I yearn to take home one each of these vibrant souvenirs; handmade bag, fashionable attires, jewelleries etc……just too fascinating.
It was indeed a great privilege to walking along the exact market street where the famous "Furong Town" movie was shot. If this was not enticing enough, we even took a quick bite from the very "rice tofu" restaurant that was shown in the renowned movie. We definitely felt like celebrities after this gesture. As background information, the town was formerly known as Wangcun Village but was changed to reflect the famous movie that was shot there hence the new name; Furong Town.

It was exactly at this note that our final three (3) days trip concluded. At this juncture, the famous quote "all good things must come to an
end", proved very true as we were still enthralled by the sight we just witnessed.

It has definitely been an exciting, informative, educational, entertaining, thought-provoking, challenging and humbling three (3) days tour. Lessons learnt are definitely multi-dimensional i.e. appreciation of culture, conservation of the environment, preservation of tradition; and utilizing this for commercial purpose as means of livelihood improvement.

I also take back broader knowledge and understanding of the minority group, and how they strive to survive and excel in their undertakings. Once again, we are greatly indebted to the organizers of the Hunan Province Foreigner Photo Contest for such an exceptional initiative and an awesome marketing & promotional platform for showcasing the diverse and unique characteristics of the province of Hunan.