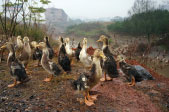 On the morning of 14th December 2013, a group of us set off from the city of Changsha, on a journey to Langshan Mountain, a natural gem situated in Xinning County of Hunan province. It was a six-hour drive on a cold wet morning.
At noon, we stopped at a restaurant in the middle of nowhere to have ourselves some lunch. That was where I came into contact with some friendly ducks. Upon unsheathing my camera, a thought popped into to my head, "friend or food?"
It was funny seeing that some of them might have been on our lunch menu. We had lunch, and everyone was filled with energy and anticipation as we headed to our destination, Tianyi Lane.

We arrived at the entrance to the mountain and immediately had to open umbrellas or put on raincoats. It was not the optimal day for a hike and photo session, but we pressed on anyway.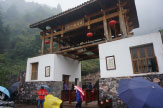 We passed through the gates and started up the stairs. Fog coming down the valley had me thinking what this place looked like on a clear day.
A few minutes in, there was a huge rock wall in front of us. It took me by surprise, I didn't expect, nor had I seen anything like this before. The obvious reaction was to stop and stare for a while as I couldn't even find the ends of the thing through all of the mist.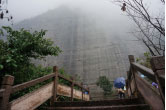 Moving on from that shocker had me upbeat and by that time I couldn't even feel how cold it really was.
A little while after we arrived at what I would call a slit in the mountain. Another surprise was when I was told that we were supposed to go through and not around that slit. That was the entrance of Tianyi Lane. Tianyi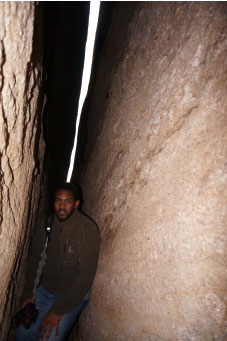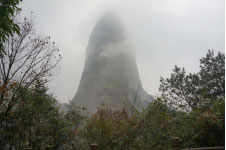 Lane is said to be formed by downward erosion of fluid flowing along the rock fracture. It has a total length of 238.8 meters and a height of 80 to 120 meters.

Anxious to see what's next, I gathered up the courage to finally enter the alley, but that was only the beginning. Being 100kg heavy and 186cm tall, getting through this alley was no joke for me. Some spots required me to take so really interesting poses to pass through.

But finally, excited, and wet, I made it through all the 238.8 meters of Tianyi alley.

All throughout the mountain, glances of nature's beauty could be had by those who were quick enough to catch it before it got covered in mist. Beautiful rocks, moss, and bamboo were abundant.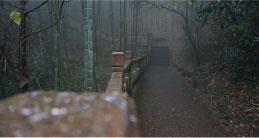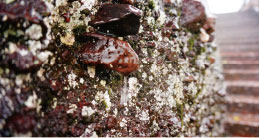 That evening, we all retired to the hotel to have dinner and share photos. It was a long and tiring day and we had another ahead of us.

On day 2, our destination was Chili peak. We set off just after breakfast all energized and ready to undertake any obstacles the day would through at us. The weather was the same as the day before, only this time we were ready. We came across the Candle peak which was wrapped in mist.

The only difference from the last one is that we had to move horizontally and vertically to get through. All the way up the mountain I was just taken by the depth and color in the surrounding. I couldn't stop trying to capture it all on camera, even if that meant getting my lens wet.
After that we continued along a path around the side of the hill and into another slit in the hill.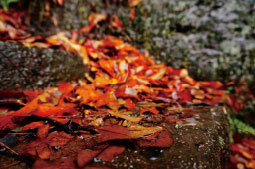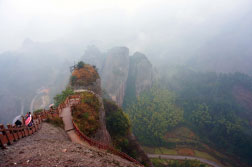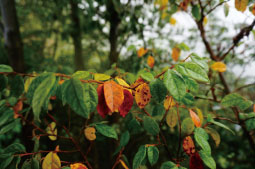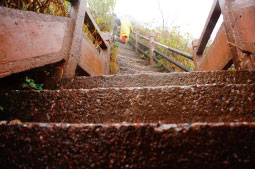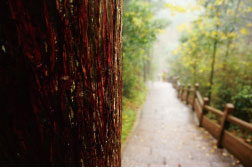 Almost at the top, we saw the 99 step wish padlock. It is said that if you put a wish padlock on the chains of the 99-step padlock ladder, all your wishes for happiness will come true.
Finally we were at Chili Peak. Because of all the fog, a clear view of the peaks was difficult to come by, so our imagination had to suffice.
Then began the journey down the side of the mountain and back to the bus.

All in all, I feel the trip was a success even though the weather was not so great. I had fun, took a lot of photos and made new friends.