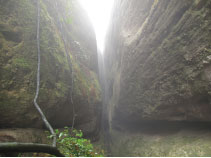 Ever wanted to explore a world of strange but incredible natural forms, to briskly walk through a symphony of enchanting but bizarre peaks?
Ever thought of getting away from it all in a place so curious that even nature would take a break and marvel at her own designs? Ever wanted to take in such outstanding views, unlike any other, in a far flung corner of Hunan province?
If so, then you simply must go to Langshan. This is the general name for a wide area of some inspirational and fantastic land forms, with peaks that smoothly penetrate the misty sky and give rise to legends and tranquility.

Langshan, close to Xinning and Loudi, sits snugly in the far South of Hunan. The national park stretches some way and provides the perfect weekend getaway for relaxation, for easy mountainous exercise or to take your lover on a romantic break far from the city lights.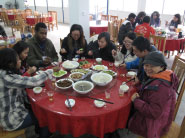 So, we set off from a rainy provincial capital Changsha on our
multi-national coachload of Chinese and international friends. People from Europe, Africa, the Caribbean, South East Asia and the Middle East all joined to explore this mystical area that so many hear about but so few venture into.
Our coach pulled into the car park and out we climbed after the rough 6-hour ride…but excited and full of curiosity of what lay ahead. We donned our waterproofs and umbrellas, although the rain was light, and began the ascent. What seemed like a stairway to heaven opened up onto a vista so grand and green that even the laziest of travelers would think it worth the effort! A shear wall, colossally straight and
vertical sliced through our hilly right of way stood in front of us. We followed the path around, which clung onto the straight sides as if by magic. How these paths were constructed, with shear below drops, is fascinating. So we followed our guides on this very well organized trip.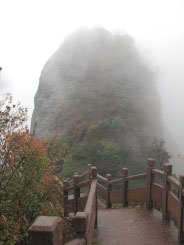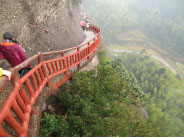 The path stopped suddenly and the way ahead pointed only one way into the heart of a mountain! In fact, it was a gap, so narrow, as if the world had been sliced in two by some mighty sword, that we scraped through.

Meantime, the drops fell through from above as daylight got rarer with each step up. Out we came, the other side to follow the path further still, through more mega cracks in the mountains, through damp, fresh forests and out again into daylight. At this point we had all bonded well, a big happy group, and we exited the mountain, slightly wet, and ready for dinner. The meal was in Xinning in a decent hotel. Very good food, locally cooked, fresh and filled our hungry bellies. Seldom can one say they can make such new and meaningful friends.

Next day, we set off again, limited on time, to a different corner of the great Langshan world of mystery and excitement. This was surely the best way to enjoy your life! This time, the shapes of the peaks became even more obscure and far out. Imagine huge egg-shaped mountains, or camel humps on a gigantic scale, lost in a blanket of mist and only showing their good sides, as clouds drifted in between and our path snaked through yet more forested, straight-edged but majestic formations. We held a profound feeling of gratitude to Mother Nature and her gift to the world: a land of fashionable shapes. Extremely curious, with no other people (one superb advantage of poorer than usual weather) and some awesome forms and sweeping valleys to photograph or just admire, lead us to our summit. The staircase seemed like something from the Wizard of Oz, an optical illusion, a fold in the Earth perhaps, as the path became a complete right angle leading towards the wet pagoda above. Time for another group photo!

Back down, through yet more enchanting shards, wild pathway turns, winds that crippled flimsy umbrellas, vertical slopes, smooth peaks, forested valleys and exciting twisty paths we went. It was a great trip, in weather that lifted the area into a mysterious level of imagination and unique poetry: such beauty.

We headed home, ready for our own beds. It was, as some might say, unforgettable. It was shapes, it was mysterious, it was inspiration, it was a place that many should go to and enjoy through exploration of the hanging pathways and massively contrasting landforms. It was Langshan. It's Hunan!