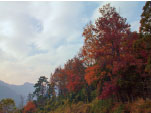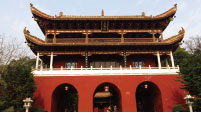 These last days in 2013 were really boring for me, it rained all days, wet and very cold. Suddenly I knew about the "Hunan Province Foreigner Photo Contest". I then told Ahmed, one of my best friends in China: "Let's go, we will enjoy". Because we both were interested in traveling, we applied immediately and joined the tour to Hengshan Mountain, Shaoshan and Huitang Hot Spring from December 13th to December 15th. This three-day tour really didn't make us disappointed at all.

On the first day, it took us 2 hours by bus to Hengshang Mountain. Mount Hengshan was one of China's Five Sacred Mountains. Before going to climb the mountain, we visited the Grand Temple. I am not a Buddhist but I totally believe in Buddhism. That is why I love this place so much. These temples are beautiful with stunning gardens and
unique architecture style. It's interesting to know these temples were built over two thousand years ago. Many pilgrims always come to this holy place for praying for good health, happy marriage or better study. And me, I would like to walk here to enjoy peace and quiet after busy and stressful days in the city, to charge energy for future challenges and difficulties. After lunch, we went to climb the mountain. "What an amazing mountain peak!" that is what I can say. You can see the whole scenery, you recognize that you are so small in this world; you can feel that you nearly arrive at the heaven; you think you could touch the cloud. It is really so awesome that describing my feeling by words is impossible. On the way of leaving this mountain, I told myself that I would go back one day, certainly.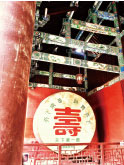 The second day began by the tour of visiting Chairman Mao's residence. I was so surprised to see a newly wed couple, who came here to pay tribute to Chairman Mao before they go to the hotel for the celebration.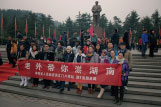 I was told that this is the tradition of the local citizens. The couples wanted Chairman Mao to become the first person witnessing their new beginning of marriage, and blessed them a happy life. It really shows that how much Chinese people love and respect him. I was continually surprised to hear about a love story because of Chairman Mao when we visited a museum. I saw a group photo of Mao and some teenagers taken when Chairman Mao returned his hometown in 1959. The story is about one girl and one boy. That day was the day when Mao visited the Shaoshan School. The girl sent flowers to Mao and the boy wore the red scarf for Mao. Interestingly the two kids got married 14 years later. All are the fates written miraculously. In the afternoon, we went to Shao Peak. Small villages are located on the mountain, so we went there by cable. It was definitely unforgettable experience. Cables run very slowly to let us step into a forested valley with a feeling of a little scared, a little excited, a little surprised, a little funny. I suggest that you should bring some snack or fruit or any drink you like, you will enjoy more in the cable.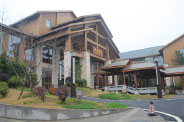 Last day, we went to Huitang hot spring, it was really a highlight of our trip because nobody had been there before. We arrived at the hot spring with full of nspiration.
Natural hot water with many mineral elements, the service of bathing rooms, hot-steam rooms, free fruit and healthy drinks are supplied professionally and caringly. All you need to do is to forget everything and enjoy, but remember to enjoy hot spring only in 10-20 minutes once if you don't want to feel dizzy. We get on the bus to be back to Changsha at 4pm.

In my opinion, when you go travelling, not only the scenery we care about the most but also the people we go with will make the trip a difference. They will make the trip more thoughtful and special. And I was so lucky to make this tour with other overseas friendly, nice and funny friends. We played, we danced, we talked, we shared and enjoyed food together. I still remembered one late night when we played cards in a hotel in Shaoshan. If you lost, all of others would ask you questions and you must tell the true story. Game was only game but through it, when we shared our stories or your ideas about life, love or family, that room at that time was full of laugh and warmth. Sami with his happy ending love, Hussam with surprised effort of losing weight, Uyanga with beautiful smile and great dance, Guna-my sweetest roommate and kind hearted Tola with his warm and polite voice, Ahmed and his nice care, Mulan with amazing Chinese and
charming big eyes, Abd-the guy who can make everybody smile anytime and anywhere, Kulutu-a typical black guy with gorgeous hip-hop dance, all come up in my mind clearly and lively while I am writing these sentences. We had a great chance of understanding each other, which is why we all felt that we did find a new family in this trip.
In the end, I want to say thank you for Hunan Provincial Government Website, especially the team going with us, Sarah, Emily, Jarek, Robert, Xiong Mei. They did try their best to give us comfortable and happy trip with their professional working style. This trip is one of my best memories in my life. I suddenly remember Miriam Beard said: "Travel is more of the seeing of sights; it is a change that goes on, deep and permanent, in the ideas of living". So, don't hesitate! Don't waste time for internet all the day, go out and discover the world in the way you like. Each trip, each new experience.