On Friday, 21 December, 2013, I was on a bus trip with a group of overseas people from various universities in Changsha and a team from Hunan Official Web Portal to the south of Hunan province. After a very long journey by bus since 8 o'clock in the morning until 12 pm, we arrived at Yongzhou City for lunch. We took another one hour to reach Nvshu Cultural Village. The village is situated in Jiangyong County of Southern Hunan.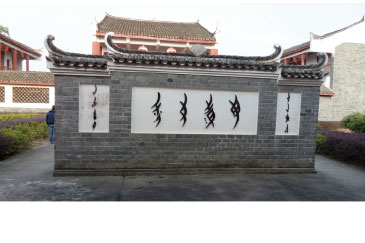 NvShu Characters written on the entrance of the Nvshu museum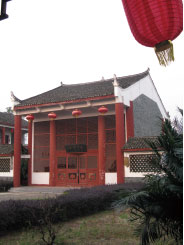 This place is known in Shangjianwei area which included all the important places such as Shangjiangwei Town, Tongshanling Farm and some other villages nearby. Nvshu culture is passed down from generation to generation through informal education such as from elders in the family or could be learnt from songs and other social performances. The most impressive thing about Nvshu culture is its unique character which looks just like the shape of women body. Some source describing the origin of this unique feminine culture by tracing back to the Yangshao Culture in the Neolithic Age that came in after Emperor Qin Shi Huang unified the Chinese characters (259-210 B.C).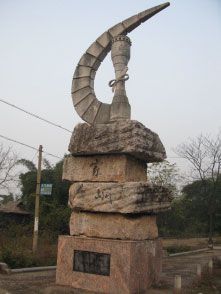 The next day was a trip to Qianjiadong Cave and ancient battle field which is the birth place and historic site of Yao ethnic people. There exist some picturesque yet strange mountainous peaks and caves. I was somehow surprised by their story that a dog was once their ancestor and as a result the Yao people today still wears cloth on their heads and puttee to symbolize their origin. The Yao ethnic is being known to own a unique custom and the place itself is ideal for the fellowmen of Yao and other researchers and both domestic and foreign tourists for holiday. After that, we visited Daboshui Waterfall in Jiangyong County where we could see the water fall from the mountain top with the height of about130 meters. Moreover, we were invited to experience the traditional local wedding of a Yao family and enjoy their wedding reception with a warm welcome.


The last day of the trip was to Ziquejie Terraced Field. It was a scenic spot located in Shuiche of Xinhua County with the approximate 533 hectare squares endowed with natural self-irrigation and endless spring water where we witnessed an amazing ancient paddy culture and cultivation on mountainous area. I really did enjoy the trip and hope to have such a kind of that program again next year.