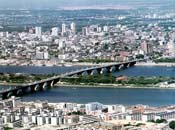 Background
The 100-member Pakistan youth delegation paid their one-week visit (from May 7 to 14) to China under youth exchange programme, visiting various cities, important historical places and educational institutions of China. This visit aims to provide the opportunity for the Pakistani people to feel the friendly and special sentiments of the Chinese people, so as to strengthen relations between the two countries.

The youngsters in the delegation come from all parts of the country and represents students and people from different walks of life, including a sizeable number of young women. The delegation started the visit on May 7, visiting the forbidden city, Olympic Stadium, Great Wall in Beijing and shopping market, and then visited Tianjin by High Speed Railway C2017, paid visit to the Tianjin foreign Studies University, and communicated with the students there. Besides, they also visited Tianjin Youth Center, Agricultural economical area, Tianjin FAW Xiali Automobile Co, Ltd, and the Tianjin Ancient Culture Street. As their third stop in China, the delegation spent over 3 days in Hunan, having visited the Hunan Provincial Museum in Changsha, Chairman Mao's former residence and his memorial in Shaoshan, Xiangtan City, the demonstration spot of new rural construction (Guangming village) and Lei Feng Memorial in Wangcheng County, Yueyang Tower and Hunan Institute of Science and Technology in Yueyang City, and finally Changsha University of Science and Technology, and had cultural exchanges with local students. On May 14, the delegates visited Hong Kong by flight and finished this one-week tour in China.
Delegates' Impression on Hunan
Zara Mumtaz Student of International relations, Quaid-e-Azan University, Islamabad.

This was my first trip to China and it was awesome. I enjoyed as well as learned a lot in each visit. My visit to Hunan was wonderful. It had left a very good image on me. I personally like all the places in Hunan province especially Changsha. I came across very friendly, simple, hospitable and decent people throughout my visit right starting from Beijing, Tianjin and then Changsha. From this visit I hope and will pray that Pakistan-China relationship always be strong and live forever. This trip is simply unforgettable. The scenic beauty of Hunan is unexplainable. It is the most worth-seeing place. I hope one day being an International Relations student I will serve my country in the best possible way and I will make Pakistan-China friendship more beautiful beyond one's imagination.
Youth Delegation's Tour in Hunan
As their third stop in China, the delegation spent over 3 days in Hunan. On May 11, the delegation arrived in Changsha, Hunan and then visited the Hunan Provincial Museum in Changsha. On the evening,Mei Kebao, deputy secretary of the Hunan Provincial CPC Committee, met with the Pakistani youth delegates led by Ms. Sohaila Mushtag...
Concluding Words
The 7-day visit in China was successfully concluded. The delegates all expressed great satisfaction and gratitude to the tour.

They thanked the Chinese people for the hospitality and well arrangement. China and Pakistan are intimate and friendly neighbors, and the two nations possess deep friendship. In recent years, Pakistan and Hunan cooperate closely in such fields as economy, trade and culture. It is hoped that more exchanges will be conducted between youths of the two sides.

On behalf of the Pakistani youth delegation, Ms. Sohaila Mushtaq showed her appreciation for the warm reception of Hunan people. She said that the leaders of both China and Pakistan highly value the cooperation and communication among the youths of the two nations. The delegation is going to share their feelings and experiences in China with Pakistani youths, and also expects youths of Hunan to visit Pakistan for further communication.
Related News
The Pakistani Youth Delegation in Hunan
E-mail:enghunan@hunan.gov.cn
All Rights Reserved.湘ICP备08102974号